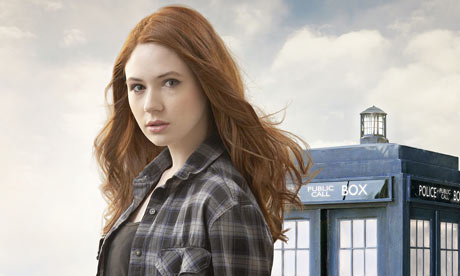 I planned my holiday to end on Saturday but
unfortunately
it had to end today. However my face lit up when I logged on my computer to see a new
companion
had been selected for the new Who series. The person to get the role was 21 year old,
Karen Gillan.
She beat
the
rumoured contenders of Lily Allen, Kelly Brook, Georgia
Moffett
and Hannah Murray to the role.
Gillan
has appeared in who before as a
soothslayer
, in last
years
'Fires of Pompeii'. She has also appeared in 'The Kevin Bishop Show', 'Rebus' and 'Stacked'
The Scottish actress said, "I am absolutely over the moon at being chosen to play the Doctor's new companion," said
Gillan
. "The show is such a massive phenomenon that I can't quite believe I am going to be a part of it. Matt Smith is an incredible actor and it is going to be so much fun to act alongside him – I just can't wait to get started!"
Steven
Moffat
said, "We saw some amazing actresses for this part, but when Karen came through the door the game was up. Funny, and clever, and gorgeous, and sexy. Or Scottish, which is the quick way of saying it. A generation of little girls will want to be her. And a generation of little boys will want them to be her too."
Hopefully we might gets some filming spoilers when they begin filming for series 10, in July!